While I'd been fascinated with taxidermy and squirrels for a while, it wasn't until this moment when I realized I could do it myself. I ran into this girl at the Zombie Pub Crawl a few years ago. She was carrying around a zombie squirrel. I started chatting with her about her squirrel, as you do, and found out she ordered the stuff online and preserved her own with a kit from the internet.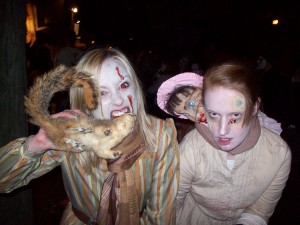 That was when I knew I could do it. I really wanted to take a class or something, but those are really hard to find. In fact, one place I inquired acted like it was really weird to want to take a class. I was losing hope, and about to give up and learn through the magic of the interweb. Luckily, my niece found The Detroit Academy of Taxidermy, and the rest is history.
So, thank you zombie girl and zombie squirrel, for setting me off on this adventure.