As we prepare to move across half the country, it's a good opportunity to let go of things we don't need or want. Some things go to Goodwill, others get listed online to find a new home.
Today, I sold Billy Corgan's cage. She's been gone almost two years. I know I'm a one rat kind of lady. I think they're cute. I think they're good pets. But Billy was special, and magical, and I'll never again find such a perfect rat lady.
Yet, it took two years to give up her cage and accessories. At first, it was because I was mourning her. After a while, I scrubbed her cage and decided I was going to sell it. Yet, I always had reasons to procrastinate. When my sister collapsed the cage to take up less space, that prevented me from taking photos to sell it. I couldn't find the instructions. It did get reassembled, but was all dusty. So on. So forth.
Moving gave me a bit more motivation. Yet, I was dragging my feet. I finally took a deep breath, cleaned up everything, and took photos. It was hard. It was just like all the times I cleaned the cage for her. As I assembled her carrier, I remembered when we bought it because she'd figured out how to open the first one we had. I remembered the final time I put her in, when she let me know she was ready to move on. Bringing it home, empty. I set the food dish on one platform to show how it fit in place and recalled her "remodeling." She liked to rearrange her home, usually at night. Sometimes, this meant picking up her dish and moving it to a different platform. She was so talented, she rarely spilled her precious nuggets. I checked the fleece scraps, pulled from my fabric stash to make blankets. I unfurled a scarf-like strip of dinosaur patterned fleece, one end thoroughly marked by her teeth. I chuckled quietly, thinking of how I found the strip in her cage. It had been neatly folded on the shelf of her supplies. Somehow, she managed to grab an end of it, and pull it through the narrow bars of her cage. It was pretty impressive.
She was smart, and feisty. She would snuggle with me on the sofa, but let me know when she was ready for alone time. She had beautiful, delicate fingers. When given a treat, it was like watching any refined lady enjoy a meal. I realized the true source of my procrastination. I still missed her. But, I was ready for someone else to enjoy her things.
Once listed, I quickly had to file an appeal to Facebook. Despite being posted in the "pet supplies" category, their algorithm thought I was selling a pet and flagged it. Once resolved, emails and messages trickled in. Folks wanted me to split the lot of items or make low-ball offers. I turned them down. One guy got me to agree to knock a few bucks off, so long as he came that evening, then I didn't hear from him again. Then, I received a polite message from a woman with an offer. She was looking for a new cage for her ratties, and mine looked ideal. I asked when she could pick up, she said in the morning. I had a good feeling in my gut about her. I accepted her offer, and made arrangements.
This morning, as I wheeled the cage to the elevator, still more memories of Billy came back. As I exchanged the cage for dollars, I pointed out some good things to know about it. I wanted to tell them about how she loved to climb. How the few dings on the finish were from when she felt anxious, and would slide her teeth on the bars. About her remodeling adventures. Instead I told them that I hoped her rats would enjoy the cage, and the extras.
It was far more bittersweet than I expected. I can only hope that she and her pets make even half of the wonderful memories Billy made for me.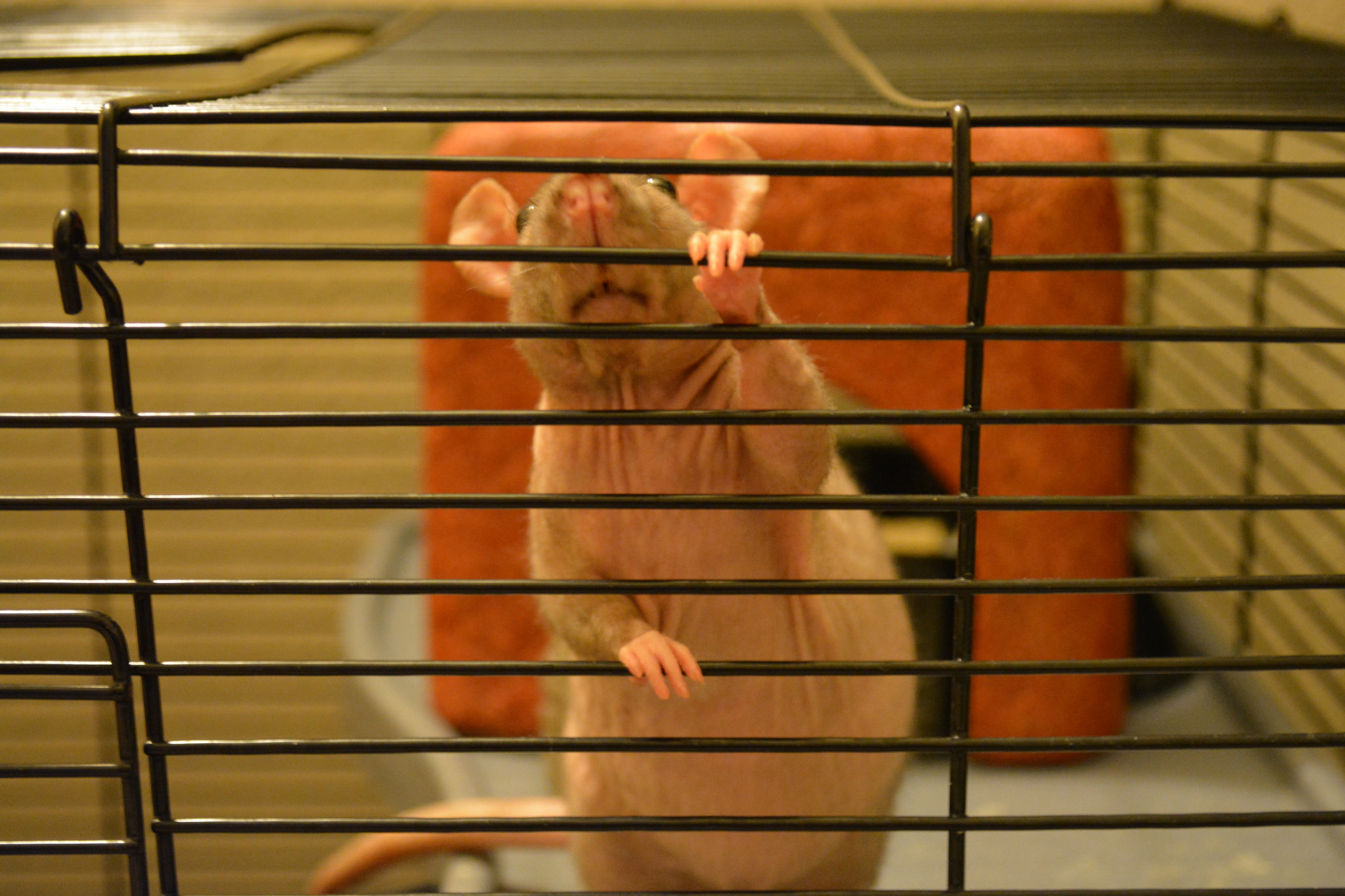 xoxo